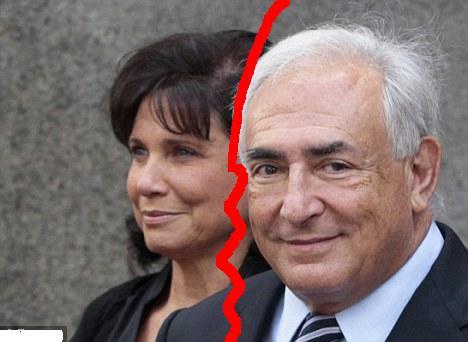 Jin Lee/Bloomberg News
By ELAINE SCIOLINO and MAÏA de la BAUME
PARIS — She has been more than the faithful wife. She has been the fiercest of defenders.
Dominique Strauss-Kahn and Anne Sinclair walked in the courtyard of their Paris residence in September of last year.
No matter what the sin or scandal, Anne Sinclair bankrolled, excused, protected and even praised her husband, Dominique Strauss-Kahn, with passion and eloquence.
She was called a modern-day Joan of Arc, and she was called a fool. When feminists blasted her for standing by her man, she fired back, telling French Elle, "Well then, leave your husband if you want. That's your problem."
Now, just months into a new career as the editor of the French edition of The Huffington Post, and after 21 years of marriage, Ms. Sinclair may have decided to move on.
And Mr. Strauss-Kahn, who headed the powerful International Monetary Fund and perhaps could have been France's president, will fall deeper into ignominy.
On Thursday evening, the French tabloid Closer reported online that the couple had separated. Mr. Strauss-Kahn had moved out of their luxury apartment on the Place des Vosges, the magazine wrote.
"Ms. Sinclair asked Mr. Strauss-Kahn to leave the apartment a month ago," Laurence Pieau, Closer's executive editor, said in a telephone interview on Friday.
She added that Mr. Strauss-Kahn had first moved into the elegant Hotel Lutétia in the Sixth Arrondissement and then to a friend's apartment across the river in the residential 16th Arrondissement.
"For me, it is a definitive breakup," Ms. Pieau said, declining to reveal her sources.
(...) "The saga is not over," said Jean Quatremer, author of the recent book "Sex, Lies and the Media." "Dominique Strauss-Kahn will continue to fascinate people. He is a Faustian character. In France, it is rare that politicians who fall into disgrace stay in the public eye. But with Strauss-Kahn, we could read and read about him again. He is our dark side."
The signs of marital strain have been there for some time.
At first, Ms. Sinclair, a former television anchor and the heiress to an art fortune, was in lock step with Mr. Strauss-Kahn after he was charged with sexually assaulting a housekeeper in a New York hotel last May and forced to abandon his quest for the French presidency. The criminal charges were later dismissed.
Nafissatou Diallo, the housekeeper, has filed a civil suit against Mr. Strauss-Kahn in New York seeking unspecified damages; he has filed a countersuit for malicious prosecution and defamation.
In January, four months after their return to Paris, Ms. Sinclair stepped into a new professional life working for her friend Arianna Huffington, with an office and staff in the headquarters of Le Monde.
At a news conference opening the Web site, her makeup was impeccable, her voice low and confident, her gaze focused on certain photographers. She was no longer wearing her wedding ring. There was no mention of Mr. Strauss-Kahn.
"This is a chance for me," Ms. Sinclair said. "The Huffington Post gave me a chance."
In the interview later with Elle, she said, "I am neither a saint nor a victim. I am a free woman."
Meanwhile, Mr. Strauss-Kahn was unemployed, spending much of his time at home. Then, in March, he was charged with involvement in a prostitution ring centered in the northern French city of Lille. The police are also investigating allegations that he sexually assaulted a Belgian prostitute at a hotel in Washington in 2010.
He was suddenly a pariah, shunned by friends and political colleagues. A former Socialist prime minister, Michel Rocard, called him sick. Mr. Strauss-Kahn, Mr. Rocard said, "obviously has a mental illness, trouble controlling his impulses."
French tabloids had for months speculated about strains on the couple and a possible split. He and Ms. Sinclair were last seen in public in April, when they attended a party in Paris. She appeared alone this month at a film premiere in Paris.
A new book, "Les Strauss-Kahn," by a pair of veteran Le Monde journalists, Raphaëlle Bacqué and Ariane Chemin, investigates their life as a couple and has been a runaway best seller.
Theirs is a story "about a political couple and an uncommon couple, a couple that has been solid, a couple who became political pariahs, a couple no one wanted to be associated with," Ms. Chemin said in a telephone interview. "For many people, their life as a couple is a mystery."
The clearest signal of a potential split was provided in not very subtle code when Ms. Sinclair appeared solo on the cover of Paris-Match two weeks ago.
Inside, Mr. Strauss-Kahn was photographed looking depressed. The magazine quoted an unidentified friend describing him as "destroyed, depressed," and spending most of his time "playing chess on his iPad."
However, Paris-Match did not predict the breakup. "Ruin twenty years of love, shared ambition and complicity, no," it wrote. "Make the family cocoon explode, even less. What would she get out of it? The revenge of a disgraced woman? She would punish herself even more. And as DSK often put it, 'Sex and love don't always go together.' "
COMMENTAIRE DE DIVERCITY
CHERCHEZ LA FEMME
Anne Sinclair, à n'en pas douter aurait fait une première Dame très glamour. Qu'on les passe donc en revue, ces dames, Carla, Cecilia, Valérie, Michèle sans oublier la grandiose Hilary! Sacrées bonnes femmes! Rien à voir avec tante Yvonne ou Lady Churchill ou Eva Braun. Une exception peut-être: Eleonor Roosevelt, soeur jumelle de la Beauvoir, du moins au mental!
Assurément, le couple Anne -Dominique est mythique mais DSK n'est pas Sartre quoiqu' on parlera, à coup sûr à nouveau de lui ("Dominique Strauss-Kahn will continue to fascinate people. He is a Faustian character"). Mais, ce qui est sûr c'est que ces dames donnent une certaine image de la nouvelle place de la femme en Occident: l'égale de l'homme, à tout le moins. Contrastons cela avec l'image terne cette bonne madame Morsi, épouse soumise et enfoulardée du nouveau président islamiste d'Egypte. On mesure, à l'aune de cette comparaison l'abysse qui sépare l'Occident décadent mais flamboyant d'un Orient qui renoue avec l'obscurantisme islamiste d'un sombre moyen âge.
Je finirai par croire, à l'insu de mon plein gré, que Huntington n'avait pas tout à fait tort avec son concept tordu de "choc des civilisations".
MG